Hello les bébés! La coiffure que j'arbore s'appelle "Bantu knot" (en français "noeuds Bantu"). Elle porte ce nom en référence aux "Bantu", une ethnie d'Afrique, et du Congo, le pays de mes origines. Il s'agit de l'une de mes coiffures préférées depuis mon enfance. Ma maman me coiffait déjà de la sorte quand j'étais encore toute petite, et que mes cheveux afro prenaient de l'ampleur.
Nombreuses sont les petites filles qui portent cette coupe de cheveux en Afrique.
Je suis contente et extrêmement fière que cette coiffure provenant de mon pays d'origine, se soit aujourd'hui répandue, et qu'elle inspire de nombreuses cultures depuis quelques dizaines d'années. On retrouve notamment cette coiffure chez les punk par exemple.
En conclusion, l'Afrique n'est pas forcément pauvre, elle est riche en art et en culture.Voilà, c'était la minute culturelle ;) xx
Hello babies! This hair style that I'm wearing is called Bantu knot, as a reference to an ethnic group of Africa, and of the Congo, where I'm from, "the Bantu". It's one of my fav hairstyle since I was young, my mum used to do it to me when my afro hair was growing as a little girl. We do this to a lot of children in Africa.
I'm so happy and extremely proud that this hairstyle from my mother countries has since decades, inspired a lot of other cultures as the punk for example.
As a conclusion, Africa is not necessarily a poor continent, it's also a place full of art and culture, another form of wealth. That was the cultural minute ;) xx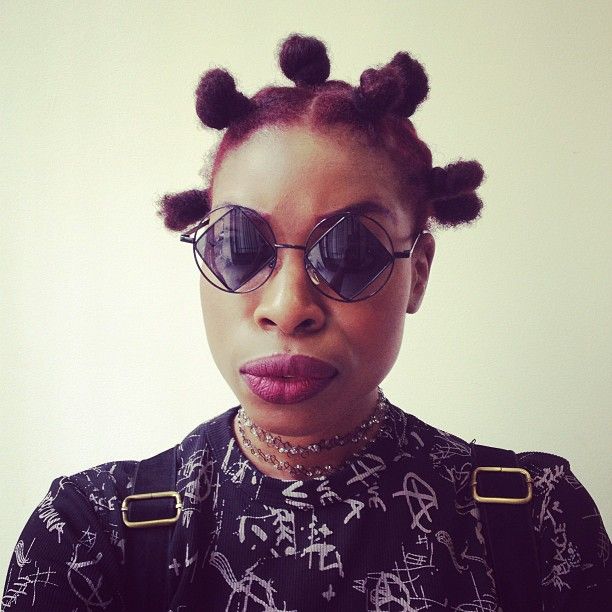 What I'm wearing: Gothika Graffiti Top, Public Romance Leather Pants, New Look Velvet Back Pack, Addicted Sunglasses, Cheap Monday Wedges